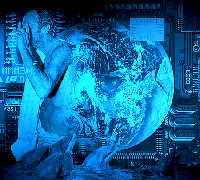 Karl Marx says technological revolution is accompanied by social revolution. Spirituality comes from people. This means a spiritual revolution will mirror the digital revolution that is upon us. The revolution is raging, and even as our Ricki Lake-spray on cheese culture of shadows soaks up the joy of ordering pizza on the "information superhighway," a guy like me, with an MTV attention span, and Woody Allan neurotic, has the tools to communicate. I am plugged in, and my dream is to put my whole life, vision quest and all, onto a single CD ROM. Spiritual exhibitionism at its best!

We are half animal, half god. As the shadows evolve, so does our spirit. . .

We have come to an age of digital messiahs and post modern prophets. Neurotic Jesus preaching on the World Wide Web. Will another messiah come ridding on a white horse and save our souls? No. A messiah is sleeping inside each of us. WE will make this explosion of Love/ Truth/ God happen. Our parents sold out, now its up to us to continue where they left off.