Transcript of a one hour special on Radio Apilog in Israel

Radio Apilog Audio, May, 2017:
Hello, listeners of Epi-log radio, we are airing our show early, "Present for the Shabbat evening" at 12, with the creator, artist and musician, in his soul. Those who listened with me last night discovered the inner beauty of his creations. The opening signal for the program "Present for the Shabbat evening", a melody of songs. The melody is by Ron and the musical processing by Ofer Hammerman. The opening signal will be sounded at the beginning and end of the program.
Dylan Tauber is an electronic musician, artist and writer who has lived in New York, Jerusalem, Miami, on a remote island in the southwestern Pacific Ocean, and now lives in northern Israel. Dylan Tauber has been producing music, art and writing since the beginning of his magnificent 20-year career. And in 1996, with his "Double Mirrors" collection, which contained a book, video presentations, a soundtrack and a website accompanying the "Double Mirrors" project. He evolved over the years as he continued to explore the cyber-spiritual revolution. In addition to the release of 11 ambient, electronic, trance music albums, eight of which are available for download, and I tell you - anyone who was with me yesterday and heard the melodies through the website, through Ben-Galim Studio, knows what I'm talking about. Dylan owns a network of 14 websites, which include a picture gallery, photos and a video archive. This network of websites has reached over 2.3 million views since 1996. Dylan toured all over the world between the years 2000-2001, [a tour] which started and ended in Israel, we're lucky that you are with us! He published two books, in 2001, and two more e-books in 2013. A photo album of Dylan's photographs and his digital art was released in 2005. In 2015, Dylan Tauber finished his second album called "Near-Death Experience", as well as, in 2015, Dylan produced his ninth album, called "Dolphin Trance". In 2016 Dylan finished his tenth album "Dolphin Trance 2", as well as his eleventh album, which is actually a collection from 2006 to 2016. The 11th album was Dylan Tauber's second decade in his career.
His new project consists of electronic music with singing, and we're now going to make some acquaintance with something called "Upload Sarah", or "Sarah" ... I think it's like that. Let's listen.
- Music -3:06- 6:53
-Wow... I forgot to tell you something very important, this program "Present for Shabbat evening", is for online and text listeners. And I must say something very important- Dear Dylan Tauber, yesterday I've celebrated my birthday and the blessings are still coming in. So, if someone calls me during the program, you will be a part of this celebration of the birthday, and your melodies which are heard in the program are a gift to me for Saturday [Shabbat] evening. So, we continue with a text I've just received, from Gal Mashiah- "Who's divine voice is this Yehudit?". So, I don't know whose, but if Avi Maoz, if you're listening please tell us who's divine voice this is that we heard in the previous melody, in this song. And another text, "Yehudit, last night I heard melodies from another world of Dylan Tauber, can you incorporate them into your program - "Healing Words and Healing Sounds"? And motivate us in writing?" this is a text from Shula Shula Bilshinci. So...Ah... Yes! These melodies are delightful. They immediately connect to this, and I think that Dylan Tauber doesn't even know what "Healing Words and Healing Sounds" is. It's a program I motivate my listeners to write, and the melodies they inspire writing, and the melodies of dear Dylan Tauber, will be used in my next program, "Healing Words and Healing Sounds," I would love if you would listen to us and see what your melodies produce from online listeners and writing. And we have now come to a song called "Carry Me" [speaker follows with Hebrew translation], let's listen.
- Music- 8:40-12:09
-"Wow, what beauty, just great beauty. It is a voice from another world, what a stunning combination of created sounds and a divine voice." This is a message from Natalia Brenner. And one more message - "Genius pleasure, sounds that connect to the singer's voice, they take her to the world above, so it might mean 'carry me'". It's a message from Liraz Meshulam, it was beautiful, we're now moving on to the third melody, or the third song "Deep Cold Sea", deep in the cold water, let's see.
- Music- 12:49-19:25
-I hope you heard the sounds of the water. We've started with messages here - "Yehudit this is heavenly, really suitable for your program "Healing Words and Healing Sounds", a gift for the soul". This is a message from Israel Reznik.
"Sounds of water, here, you know they heal people". And this is a message from Haim Rahmiel. "A wonderful melody, from a world of water and sky, I really love it"- Ruhla Amir. So fine, I'm glad you recognize and come up with him and me. We move on to the next melody, "Sea Star Colors", I mean the sea in different colors, let's listen.
- Music- 20:10-22:53
-Wow... I think the singer is called Anna-Leah and she is an indescribable wealth, how she connects to the sounds of the depths of the sea and brings her voice to heights that no one knows. It's a fascinating combination of Tauber and her. And now, we're moving on to another song, "Slowly" [Hebrew translation], and she's performing there as well and she's singing again so I'm glad to hear her voice on this album.
- Music 23:23-25:50
-Fascinating, just fascinating. "Yehudit, this is the voice of an angel," Aya Peretz writes to me. And another message "A real connection out of this world, pure beauty and sound. Between a singer and a musician who knows how to produce a perfect uniqueness from her voice." This is a message from Amir Rosenthal.
So great, I'm glad you're connected, and you're a little out of this sound shock. "So Far Away," is what we're going to hear, let's listen.
- Music- 26:21-29:56
-For your question "who promotes for Dylan Tauber", Hit Record promotes him. And we come to the next melody which is "The Sea", let's listen.
- Music- 30:06-32:36
-"It was just magic," Maayan writes to me. And I have to read here a message that just got in "Electronic music is a lust for the ears, especially when it gives place to the sounds of the sea, to dolphins, to all of nature", this is a message from Dr. Yair Ben Abu. And another message "You share a love. You love melodies that nature makes its sound like the seagulls, dolphins and water in the passages that your student has passed on to you and you play for us. So, I also listened to the radio at night, heard a cosmic taste and fell in love "so that was Nadav Yasmina's message, and we're coming to the next tune and the next song "Lives".
- Music- 33:24-36:36
- "Sounds and the voices of the water and the sounds of singing from the depths, what joy" Michal Tzafrir writes to me, and we continue. "Doorway", a signal gate, a door that is a way, let's listen.
- Music- 36:52-39:55
-There is a beautiful connection here of a biblical voice and sounds of electronic music which is a wonderful connection. And "Into the Light" or "In The Light", we'll hear now.
- Music- 40:08-42:33
-Wow, just beautiful, no words. And we come to the part where he says "Life is an Emotion", let's listen.
- Music- 42:49-46:38
-So, you loved it, it was trance music and I'm glad you woke up and reacted, and... Great! And we now come to the last part that says "Near-death experience" which is um... a near-death experiment [speakers' Hebrew translation], let's listen.
- Music- 46:54-50:24
-I am the light, I am the soul, ready to go.. Beautiful. Dylan Tauber, I wish you [the best] with the second compilation album and thank you for the beautiful messages you sent me during the show, we reached the end signal and it was pleasant.
---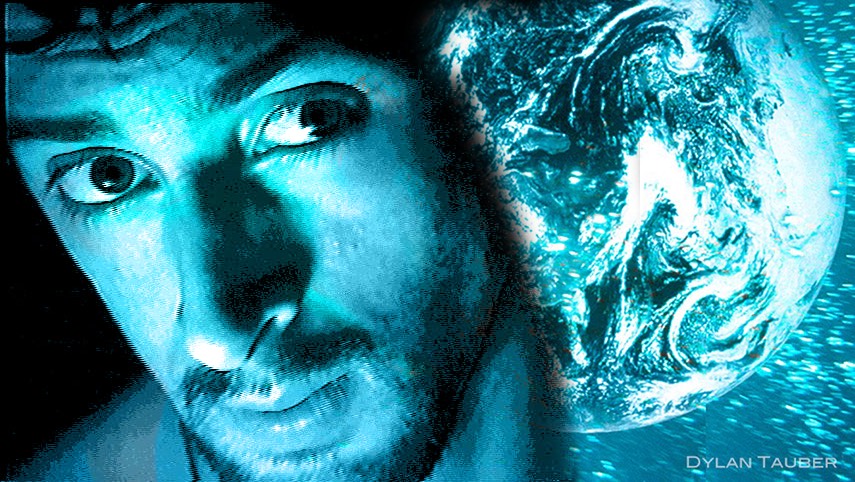 Project Double Mirrors, DoubleMirrors.com, and the SWS Network, are a creation of Son of Waves Studios, Israel. © Copyright 1996-2020, all rights reserved.